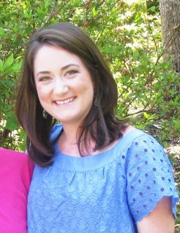 Education
B. S.  Biochemistry
University of Georgia
Ph.D Chemistry
University of Michigan
About this team member
Meagan received a B.S. in Biochemistry and Molecular Biology from the University of Georgia in May 2011. At UGA, she did analytical chemistry research with Prof. Marcus Lay. She began graduate school at the University of Michigan in Fall 2011 to study Materials chemistry and joined the Banaszak Holl group in 2012.  She studied the nanoscale structure of Type 1 collagen and the relationship of structure to disease and collagen formation.
In 2016 she became a post-doctoral fellow working with Dr. Isaac Moss in the Department of Orthopaedic Surgery at the University of Connecticut Health Center.
In 2021, she joined the Biomaterials Group at NIST as a post-doctoral fellow.
Publications
Microstructure Dependent Binding of Pigment Epithelium Derived Factor (PEDF) to Type I Collagen Fibrils

Journal of Structural Biology

2017

199

132-139

In vivo targeting of metastatic breast cancer via tumor vasculature-specific nano-graphene oxide

Biomaterials

2016

104

361-371

Estrogen and drug treatment alter the microstructure of type I collagen in bone

Bone Reports

2016

5

243-251

Alteration of Type I collagen microstructure induced by estrogen depletion can be prevented with drug treatment

BoneKey

2015

4

697

High-resolution NMR characterization of low abundance oligomers of amyloid-beta without purification

Scientific Reports

2015

5

11811