Education
Bachelors of Science
USTC, 2008
Doctor of Philosphy
University of Michigan, 2013
About this team member
Flora received a B.S. in chemistry from University of Science and Technology of China in 2008. At USTC, she did research using state of the art Guassian 3 to study quantitative structure-property relationship of tetrathiafulvalene analogs. Flora's research at UM wsa aimed at understanding bone and skin collagen changes occurring in sheep and humans with osteoporosis disease.  She is currently working at LifeCell Corporation.
Flora on graduation day with Meagan.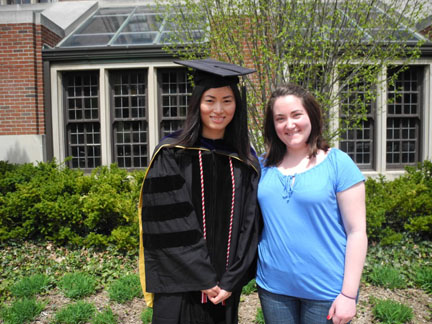 Publications
Estrogen and drug treatment alter the microstructure of type I collagen in bone

Bone Reports

2016

5

243-251

Alteration of Type I collagen microstructure induced by estrogen depletion can be prevented with drug treatment

BoneKey

2015

4

697

Nanoscale Structure of type I collagen fibrils:  Quantitative measurement of D-spacing

Biotechnology Journal

2013

8

117-126

Type I Collagen Self-Assembly: The Roles of Substrate and Concentration

Langmuir

2013

29

2330-2338

Variation in type I collagen fibril nanomorphology: the significance and origin

BoneKEy

2013

2

394

Crystallinity and compositional changes in carbonated apatites: Evidence from 31P solid-state NMR, Raman, and AFM analysis.

Journal of Solid State Chemistry

2013

206

192-198

Estrogen Depletion Results in Nanoscale Morphology Changes in Dermal Collagen

Journal of Investigative Dermatology

2012

132

1791-1797

Type I Collagen D-spacing in Fibril Bundles of Dermis, Tendon, and Bone: Bridging Between Nano- and Micro-level Tissue Hierarchy

ACS Nano

2012

6

9503-9514

A Quantitative Assessment of Nanoparticle-Ligand Distributions: Implications for Targeted Drug and Imaging Delivery in Dendrimer Conjugates

ACS Nano

2010

4

657-670.

Type 1 Collagen Exists as a Distribution of Nanoscale Morphologies in Teeth, Bones, and Tendons

Langmuir

2010

26

7349-7354.

Effect of Mass Transport in the Synthesis of Partially Acetylated Dendrimer:  Implications for Functional Ligand-Nanoparticle Interactions

Macromolecules

2010

43

6577-6587.