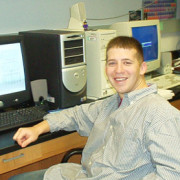 Education
Bachelor of Science
Centre College, Danville, Kentucky, 2001
Masters of Science
University of Michigan, 2003
About this team member
College: Centre College, Danville, Kentucky; graduated with a B.S. in Chemistry in June 2001
As an undergraduate, Dan did research in the summer of 2001 in polymer synthesis from natural materials under Dr. Pavel Krasutsky. He was a member of the IGERT program at Michigan. Through that program, he spent the summer of 2002 at the University of South Australia doing research in hydrosilylation chemistry.
Publications
Formation of Mixed Monolayers of Silsesquioxanes and Alkylsilanes on Gold.

Langmuir

2006

22

9619-9622.

Octylgermane on Gold: Synthesis, Oxidation, and Pattern Formation.

Langmuir

2004

20

11422-11427.

Monolayer Pattern Evolution via Substrate Strain-Mediated Spinodal Decomposition.

Phys. Rev. Lett.

2004

93

116104

Oxidation of Alkylsilane-based Monolayers on Gold.

Langmuir

2004

20

9636-9645.

Dynamic In Situ Characterization of Novel Substrate-Mediated Organic Monolayer Pattern Formation, K.

Langmuir

2004

20

1258-1268.

The Case of the Disappearing Monolayer: Alkylsilane Monolayer Formation, Oxidation, and Subsequent Transparency to Scanning Tunneling Microscopy, K.

Chemphyschem

2003

10

1111-1114.

The Effect of Surface Reconstruction on Molecular Chemisorption: A Scanning Tunneling Microscopy Study of H8Si8O12 Clusters on Au(111) 23 ´ Ö 3.

Langmuir

2002

18

8116-8122.