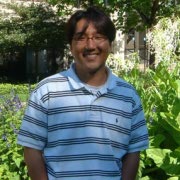 Education
Bachelor of Science
Master of Science
Hanyang University, Korea
Doctor of Philosophy
University of Michigan, 2006
About this team member
Seungpyo graduated from Hanyang University, Korea with M.S. and B.S. degrees in polymer engineering. His research involved the synthesis of polyorganosilsesquioxanes for microelectronic applications at the Korea Institute of Science and Technology.  In 2004, Seungpyo published a set of investigations indicating that nanoparticle can cause nanoscale holes in living cell membranes (Bioconjugate Chemistry 2004, 15, 774-782).  Based on these efforts and excellence in course work, Seungpyo won the University of Michigan Overberger Award in 2004 for excellence in polymer research.   His next paper on this topic (Bioconjugate Chemistry 2006, 17, 728-734) was selected as one of 25 "best Articles and Communications from the first 25 years of BC, highlighting the breadth of science and impact of the journal."
Seungpyo then began a series of experiments designed to test the polyvalent effect in the specific targeting of cancer cells.  His poster on this work won the "Top Three Best Poster Award" at the fall 2005 MRS meeting.  Seungpyo graduated with his PhD in Macromolecular Science and Engineering in 2006 and went on to a post-doc in the Langer lab at MIT.  He is now an associate professor in the Department of Biopharmaceutical Sciences at the University of Illinois – Chicago.
Seungpyo won the 2012 New Investigator Grant Award in Pharmaceutics and Pharmaceutical Technologies from the American Association of Pharmaceutical Scientists.
Publications
Cationic Nanoparticles Induce Nanoscale Disruption in Living Cell Plasma Membranes

Journal of Physical Chemistry B

2009

113

11179-11185

The Role of Ganglioside GM1 in Cellular Internalization Mechanisms of Poly(amidoamine) Dendrimers

Bioconjugate Chemistry

2009

20

1503-1513.

Synthesis, Characterization, and In Vitro Testing of Superparamagnetic Iron Oxide Nanoparticles Targeted Using Folic Acid-Conjugated Dendrimers

ACS Nano

2008

2

773-783

Nanoparticle Interaction with Biological Membranes:  Does Nanotechnology Present a Janus Face?

Accounts of Chemical Research

2007

40

335-342

Nanoparticle-Membrane Interaction: Mechanism for Enhanced Permeability

2007

HPLC analysis of functionalized poly(amidoamine) dendrimers and the interaction between a folate-dendrimer conjugate and folate binding protein.

The Analyst

2006

131

842-848.

Interaction of Polycationic Polymers with Supported Lipid Bilayers and Cells: Nanoscale Hole Formation and Enhanced Membrane Permeability.

Bioconjugate Chemistry

2006

17

728-734.

Physical Interactions of Nanoparticles with Biological Membranes:The Observation of Nanoscale Hole Formation.

Chemical Health and Safety

2006

13

16-20.

The Interaction of Polyamidoamine (PAMAM) Dendrimers with Supported Lipid Bilayers and Cells: Hole Formation and the Relation to Transport.

Bioconjugate Chemistry

2004

15

774-782.