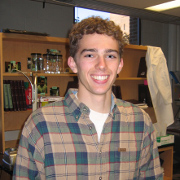 Education
Bachelor of Science
Oberlin College, 2003
Doctor of Philosophy
University of Michigan, 2009
About this team member
Chris graduated from Oberlin College in 2003 and spent the following year performing research at the NASA-Glenn research labs. Chris' research at Michigan made contributions towards exploring the physical and chemical principles underlying the interactions of poly(amidoamine) dendrimers with biological membranes.  While at Michigan, Chris was a  Fellow of the Graham Environmental Sustainability Institute.
Chris was a post-doctoral fellow in the laboratories of Barbara Baird and Harold Craighead at Cornell University.  He is currently an assistant professor of physics at Wayne State University.
Publications
Design, Synthesis, and Biological Functionality of a Dendrimer-based Modular Drug Delivery Platform

Bioconjugate Chemistry

2011

22

679-689

Stoichiometry and Structure of Poly(amidoamine) Dendrimer-Lipid Complexes

ACS Nano

2009

3

1886-1896.

Pulsed-laser creation and characterization of giant plasma membrane vesicles from cells

Journal of Biological Physics

2009

35

279-295.

Synthesis, Characterization, and In Vitro Testing of Superparamagnetic Iron Oxide Nanoparticles Targeted Using Folic Acid-Conjugated Dendrimers

ACS Nano

2008

2

773-783

Poly(amidoamine) dendrimers on lipid bilayers I: Free energy and conformation of binding

Journal of Physical Chemistry B

2008

112

9339-9345

Poly(amidoamine) dendrimers on lipid bilayers II: Effects of bilayer phase and dendrimer termination

Journal of Physical Chemistry B

2008

112

9346-9353

Interaction of Poly(amidoamine) Dendrimers with Survanta Lung Surfactant:  The Importance of Lipid Domains

Langmuir

2008

24

11003-11008

The Implications of Stochastic Synthesis for the Conjugation of Functional Groups to Nanoparticles

Bioconjugate Chemistry

2008

19

1748-1752.