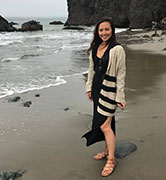 Education
B.A. Chemistry 2016
Earlham College
Ph D Chemistry 2021
University of Michigan
About this team member
Jinhee was born in Seoul, South Korea and raised in Santa Clara, CA. She received her B.A. in chemistry from Earlham College, Richmond, IN in 2016 and was involved in various analytical research projects from computing the free energy barrier of a B-DNA to Z-DNA, observing the phase behavior of triblock copolymers and quantifying caffeine concentrations in consumer beverages. For her graduate work, she was interested in doing materials chemistry research and joined the Banaszak Holl lab in the summer of 2017. She studied the structure and composition of anterior cruciate ligaments(ACL) with an end goal to contribute her findings to strengthen the ACL failure prevention programs.
Upon graduating in 2021, Jinhee accepted a post-doctoral position in the lab focussed on formulation of bacteriophage for antimicrobial applications in health care and industrial applications on a joint project with the Chan lab at the University of Sydney Pharmacy School.
Jinhee also loves the ocean, any water related sports and warm weather.
Publications
Engineering laminated paper for SARS-CoV-2 medical gowns

Polymer

2021

222

123643

Polymerization-Induced Hierarchical Self-Assembly: From Monomer to Complex Colloidal Molecules and Beyond

ACS Nano

2021

15

13721-13731

An Anterior Cruciate Ligament Failure Mechanism

American Journal of Sports Medicine

2019

47

2067-2076

The Relationship of Collagen Structural and Compositional Heterogeneity to Tissue Mechanical Properties: A Chemical Perspective

ACS Nano

2017

11

10665-10671