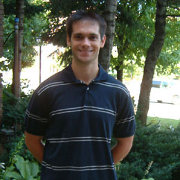 Education
Bachelor of Science
Michigan Technological University, 2000
Doctor of Philosphy
University of Michigan, 2008
About this team member
Kevin graduated from Michigan Technological University in May 2000 with a Bachelor's degree in physics. He then spent the next two years working in the automotive industry for Visteon Corporation as a Test Engineer before deciding to pursue a Ph.D. Kevin's PhD research involved  synthesizing and characterizing magnetic nanoparticles and studying their targeted uptaked into cancer cells.
Kevin's 2008 ACS Nano paper was featured in the February 2011 ACS Nano  Virtual Special Issue on Drug Delivery.
Kevin is current working at Northern Technologies International Corporation.
Publications
Synthesis, Characterization, and In Vitro Testing of Superparamagnetic Iron Oxide Nanoparticles Targeted Using Folic Acid-Conjugated Dendrimers

ACS Nano

2008

2

773-783