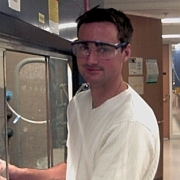 About this team member
Rory is a University of Michigan undergraduate student and an advanced Tae Kwon Do student. He worked during the spring and summer of 2001 on our C-H activation project funded by the Research Corporation.
Publications
C-H Activation of Ethers and Alkanes by Germylene-Aryl Halide Complexes.

J. Am. Chem. Soc.

2003

125

8986-8987.