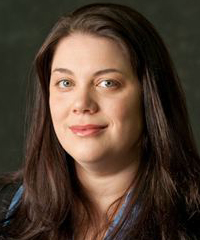 About this team member
Stassi DiMaggio was a visiting professor of chemistry at the University of Michigan working with Prof. Banaszak Holl and his colleagues at the Michigan Nanoscience Institute for Medical and Biological Sciences (MNiMBS).  Her regular gig is a position at Xavier University in New Orleans as an associate professor of chemistry.  Stassi is working on the conjugation of PAMAM dendrimers for basic scientific studies of nanoparticle/membrane interactions as well as developing a new nanotherapeutic for lung cancer.
Stassi's 2008 ACS Nano paper was featured in the February 2011 ACS Nano Virtual Special Issue on Drug Delivery.
Publications
Generation 3 PAMAM Dendrimer TAMRA Conjugates Containing Precise Dye/Dendrimer Ratios

Materials Today Communications

2015

4

86-92

Characterization of Folic Acid and Poly(amidoamine) Dendrimer Interactions with Folate Binding Protein: A Force-Pulling Study

Journal of Physical Chemistry B

2015

119

11506-11512

Isolation and Characterization of Precise Dye/Dendrimer Ratios

Chemistry a European Journal

2014

20

4638-4645

Design, Synthesis, and Biological Functionality of a Dendrimer-based Modular Drug Delivery Platform

Bioconjugate Chemistry

2011

22

679-689

Cationic Nanoparticles Induce Nanoscale Disruption in Living Cell Plasma Membranes

Journal of Physical Chemistry B

2009

113

11179-11185

Synthesis, Characterization, and In Vitro Testing of Superparamagnetic Iron Oxide Nanoparticles Targeted Using Folic Acid-Conjugated Dendrimers

ACS Nano

2008

2

773-783

Interaction of Poly(amidoamine) Dendrimers with Survanta Lung Surfactant:  The Importance of Lipid Domains

Langmuir

2008

24

11003-11008