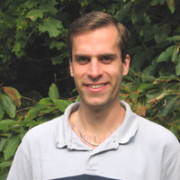 Education
Bachelor of Arts
Albion College, 1996
Doctor of Philosphy
Michigan, 2003
Postdoctoral Fellow
Cornell University with Frank DiSalvo, 2003-2004
About this team member
Ryan studied the reactions of germylenes with ketones and phenones and was a key leader in leader of studio chemistry at the University of Michigan.   He is currently an associate professor of chemistry at the Lyman Briggs College, a residential college at Michigan State University. His research focuses on the processes involved in the teaching and learning of general chemistry.
Ryan won the 2015 Distinguished Faculty of the Year award sponsored by the Presidents Council, State Universities of Michigan.
Publications
Design and Implementation of a Studio-based General Chemistry Course at the University of Michigan.

J. Chem. Ed.

2007

84

265-270.

Exploring Two Reactions of Ketones with Ge[CH(SiMe3)2]2: CH and OH insertion.

Organometallics

2003

22

5054-5063.

Activation and Catalytic Partial Hydrogenation of Benzophenone.

Organometallics

2003

22

4613-4615.

Germylene Reactions with Quinones Shed Light on Germylene Phenone Equilibria.

Organometallics

2003

22

3222-3229.

C-H Activation of Ethers and Alkanes by Germylene-Aryl Halide Complexes.

J. Am. Chem. Soc.

2003

125

8986-8987.

Quick, Efficient Conversion of Phenones to Conjugated Trienes, R.

Organometallics

2002

21

457-459.

Photochemistry of Organometallic Germylenes and Metallacycles.

Organometallics

2000

19

1186-1189.