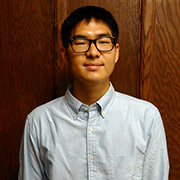 Education
B.S.E. 2015
Purdue University
PhD 2020 in Macromolecular Science and Engineering
University of Michigan
About this team member
Ted hails from South Korea.  He received his B.S.E in Materials Engineering from Purdue University in 2013 while performing research with Dr. Lia Stanciu on improving biocompatibility of titanium implant. Ted is a big sports fan and follows the LA Lakers, Boston Red Sox, and the Purdue and Michigan football and basketball teams.  His PhD research focused on the structure of Type I collagen in bone and the relation to disease and mechanical tissue failure.
Ted was also active in polymer education, teaching in the Detroit metro area schools, and recently published in the Journal of Chemical Education and article entitled "Augmenting Primary and Secondary Education with Polymer Science and Engineering"  (JCE 2017)
He is currently a post-doctoral associate at the University of Indiana.
Publications
Hierarchical Nature of Nanoscale Porosity in Bone Revealed by Positron Annihilation Lifetime Spectroscopy

ACS Nano

2021

15

4321-4334

An Anterior Cruciate Ligament Failure Mechanism

American Journal of Sports Medicine

2019

47

2067-2076

The Relationship of Collagen Structural and Compositional Heterogeneity to Tissue Mechanical Properties: A Chemical Perspective

ACS Nano

2017

11

10665-10671