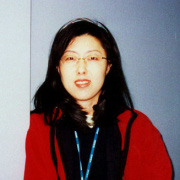 Education
POSTECH
PhD
Brown, 1996
About this team member
Sunghee Lee joined the group in December of 1992 with extensive experience in physical chemistry acquired in graduate school at POSTECH. She pioneered the Silicon/Silicon Oxide interface project as the first graduate student in the group. She graduated with her Ph.D. in the fall of 1996 and won the Brown Chemistry department's Potter prize for the best Ph.D. thesis. After graduating, Sunghee worked in various areas of chemistry and materials science including time at Duke University focusing on biomaterials engineering for an application of the active carrier delivery system. Sunghee is Professor of chemistry at Iona College.
Prof. Lee's research program has an active research program in the study of microdroplets.  She won a 2013 Rising Star Award from the American Chemical Society's Women Chemists Commitee.
Sunghee was featured in the September 17, 2012 issue of C&EN news article, Shaking up the Status Quo, for her efforts in education.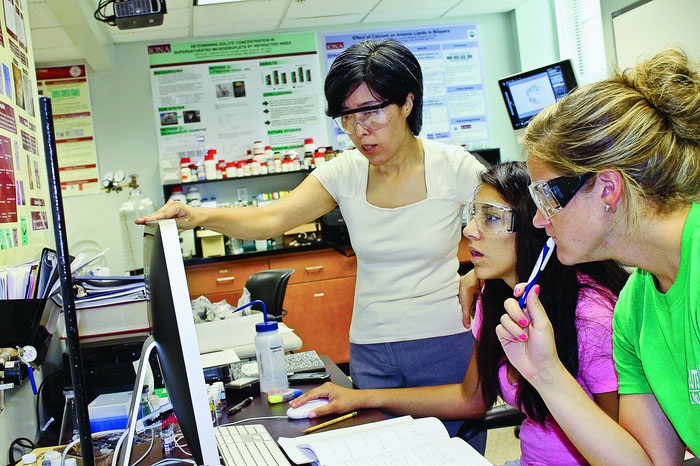 Photo Dawn Insanalli
She was featured in September 2014 in an article on the NSF website.
In 2014, Sunghee was named the Iona College Board of Trustees Endowed Professor in Science. This is the first fully endowed professorship at Iona College.  Check out the lastest from Sunghee's research group.
In 2022, Sunghee has honored as a Council of Undergraduate Research Fellow.
Publications
The Reaction of H8Si8O12 with a Chromium Oxide Surface: a model for stainless steel surface modification.

Appl. Organomet. Chem.

1999

13

279-285.

Si 2p Core-Level Shifts at the Si(100)-SiO2Interface: An Experimental Study.

Phys. Rev. B

1996

54

7686

An Inquiry Concerning the Principles of Si 2p Core-Level Photoemission Shift Assignments at the Si/SiO 2 Interface.

J. Vac. Sci. Technol. B

1996

14

2824

Photoemission Assignments of H xSiO4-xfragments in the Si/SOxInterface Region.

Appl. Phys. Lett.

1996

68

1081

Synthetic Control of Solid/Solid Interfaces: Analysis of Three New Silicon/Silicon Oxide Interfaces by Soft X-ray Photoemission.

J. Am. Chem. Soc.

1994

116

11819

Core Level Photoemission and the Structure of the Si/SiO2 Interface: a reappraisal.

Appl. Phys. Lett.

1994

65

1097