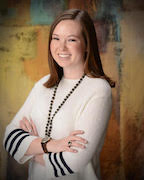 About this team member
Alexis was an undergraduate student at the University of Michigan studying Biochemistry with a minor in Latin. She joined the lab in Fall 2016 and worked on a project involving protein-ligand interaction and aggregation. She was a member of the women's rowing team and enjoys exploring the outdoors in her free time.
Alexis is starting a four-year integrated MD/MPH dual degree at the University of Miami Miller School of Medicine in July 2020.
Publications
Anti-tumor Effect of Folate-Binding Protein: In Vitro and In Vivo Studies

Molecular Pharmaceutics

2022

19

843-852

An Anterior Cruciate Ligament Failure Mechanism

American Journal of Sports Medicine

2019

47

2067-2076

Folate-Binding Protein Self-Aggregation Drives Agglomeration of Folic Acid Targeted Iron Oxide Nanoparticles

Bioconjugate Chemistry

2017

28

81-87