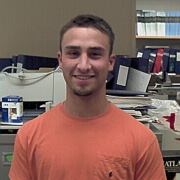 About this team member
Daniel entered the University of Michigan in the fall of 2000 and signed up for the introductory chemistry course.  This fateful decision was followed by taking the course section that Prof. Banaszak Holl was teaching.  At the end of the semester he inquired about opportunities for chemical research.  Since January of 2001 he has been performing Atomic Force Microscopy experiments on dendrimeric drug delivery agents and cells.
Publications
Atomic Force Microscopy Study of Early Morphological Changes During Apoptosis.

Langmuir

2005

21

9280-9286.