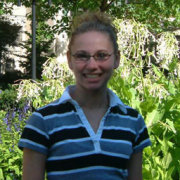 About this team member
Maggie Kober was in the University of Michigan in LS&A's Honors program as a double major in biology and Spanish. Maggie performed AFM experiments to examine how nanoparticles cause biological membrane permeability and examined the viscosity changes in cells undergoing apoptosis. She graduated from the University of Michigan Medical School, during which she was a Duke Global Health Fellow at the World Health Organization. Dr. Maggie Kober is a board-certified, fellowship trained dermatologist who specializes in skin cancer detection and prevention, Mohs micrographic surgery, laser and cosmetic procedures.
Maggie's paper in Bioconjugate Chemistry 2006, 17,728-734 was selected as one of the top 25 "best Articles and Communications from the first 25 years of BC, highlighting the breadth of science and impact of the journal."
Publications
Pulsed-laser creation and characterization of giant plasma membrane vesicles from cells

Journal of Biological Physics

2009

35

279-295.

Interaction of Polycationic Polymers with Supported Lipid Bilayers and Cells: Nanoscale Hole Formation and Enhanced Membrane Permeability.

Bioconjugate Chemistry

2006

17

728-734.