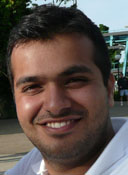 Education
Bachelor of Engineering
Panjab University, India, 2006
Doctor of Philosophy
University of Michigan, 2013
About this team member
Rahul graduated from Panjab University, India in 2006 with a BE in Biotechnology. He is currently pursuing a PhD in Biomedical Engineering. He is characterizing the impact of dendrimer based drug delivery on mammalian cells, specifically the way these polymers and the polymer/DNA polyplexes interact with cell membranes and enter cells.
Rahul also has a substantial interest in translating ideas to the clinic and has also focused on invention. He was an active participant in the Ross Business School's Dare to Dream program, the 2009 ASME Innovation Showcase (IShow) competition, and was recently a featured inventor at the University of Michigan's annual Celebrate Inventation event. This event showcases inventors from all over campus and most typically highlights faculty led groups. Rahul's invention, the Endocutter, was developed with a group of students originating from a project in a BME course. The Endocutter converts a traditional endoscope into a device that can cut up and remove blood clots, without damaging the stomach, making the identifical of bleeding areas in the stomach much more feasible and efficient. The invention can be viewed at http://www.youtube.com/watch?v=gxnB_kuzOsQ. This is wondeful example of biomedical innovation and points to Rahul's powerful combination of strong science and engineering coupled with entrepreneurship.
Rahul is currently working at Celsee, Inc. a Bio-Rad company.
Awards
2008 Dare to Dream recipient (through University of Michigan Business School).
2008 BME Idea stipend award recipient (through NCIIA)
Publications
Quantification of cytosolic plasmid DNA degradation using high-throughput sequencing: implications for gene delivery

Journal of Gene Medicine

2014

16

75-83

Poly(amidoamine) Dendrimer-Methotrexate Conjugates: The Mechanism of Interaction with Folate Binding Protein

Molecular Pharmaceutics

2014

11

4049-4058

Polyplex-Induced Cytosolic Nuclease Activation Leads to Differential Transgene Expression

Molecular Pharmaceutics

2013

10

3013-3022

The Role of Ganglioside GM1 in Cellular Internalization Mechanisms of Poly(amidoamine) Dendrimers

Bioconjugate Chemistry

2009

20

1503-1513.