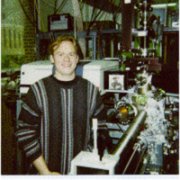 Education
Bachelor of Science 1997
Xavier University
Doctor of Philosophy  2002
University of Michigan
About this team member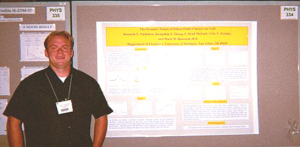 Ken graduated from Xavier in the spring of 1997. He worked in the area of solid/solid interface structure and reactivity as it relates to the chemistry of computers.
Ken presented his work at the Chicago ACS meeting in August 2001 and then departed in November for  a post-doc in the Sibener Lab at the University of Chicago.  Ken worked at Cabot Microelectronics in Aurora, IL for 1 year and is now an Assistant Professor of Chemistry at Northeastern Illinois University in Chicago, IL.
Publications
Formation of Mixed Monolayers of Silsesquioxanes and Alkylsilanes on Gold.

Langmuir

2006

22

9619-9622.

Chemical Imaging of Terrace-Based Active Sites on Gold, K.

Langmuir

2004

20

2250-2256.

The differential reactivity of octahydridosilsesquioxane on Si(100)-2×1 and Si(111)-7×7: A comparative experimental study.

Ultramicroscopy

2003

97

35-45.

The Effect of Surface Reconstruction on Molecular Chemisorption: A Scanning Tunneling Microscopy Study of H8Si8O12 Clusters on Au(111) 23 ´ Ö 3.

Langmuir

2002

18

8116-8122.

Investigation of Hydridosilsesquioxane-Based Silicon Oxide Deposition on Si(111)-7´7.

Langmuir

2002

18

6233-6241.

Formation of Alkylsilane Based Monolayers on Gold.

J. Am. Chem. Soc.

2002

124

6800-6801.

Reflection-absorption infrared investigation of hydrogenated silicon oxide generated by the thermal decomposition of H8Si8O12 clusters.

J. Appl. Phys.

2002

91

9043-9048.

The Formation of Mixed Layers Derived from Functional Silicon Oxide Clusters on Gold.

Langmuir

2001

17

7879

Self-limiting Chemical Vapor Deposition of an Ultra-thin Silicon Oxide Film.

Thin Solid Films

2001

397

78-82.

A New Infrared and Density Functional Theory Study of Model Silicon/Silicon Oxide Interfaces.

Phys. Rev. B.

2001

64

155317

The Dynamic Nature of Hydridosilsesquioxane Clusters on Gold Surfaces.

Langmuir

2000

16

8396-8403.

H8Si8O12 Clusters on Si(100)-2×1 and Gold: A Comparative Infrared Spectroscopic Study.

Mat. Res. Soc. Symp. Proc

1999

567

543-548.

Chemisorption of H8Si8O12 Clusters on Gold via a Novel Si-H Bond Activation.

J. Am. Chem. Soc.

1999

121

3232-3233.