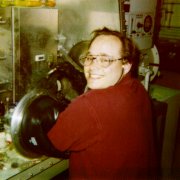 Education
BS 1994
University of Texas -Dallas
PhD 1998
University of Michigan
About this team member
Dr Litz is an experienced R&D professional leading new product introduction for a fast-growing, Tech Valley startup. He brings over 9 years of commercial R&D experience to Applied NanoWorks – Now Auterra, Inc. Dr. Litz served as a sergeant in the US Army's elite 82nd Airborne Division before going to college. He earned his B.S. in Chemistry from the University of Texas-Dallas and his Ph.D. in Chemistry from the University of Michigan. He completed his post-doctoral fellowship at BF Goodrich before joining GE Global Research as Sr Staff Scientist and Project Leader, where he worked for 8 years. Dr. Litz is a member of the American Chemical Society, the Materials Research Society, and the Electrochemical Society. He holds 4 issued patents, has many pending applications, and over 35 publications in high profile, refereed journals and corporate technical reports. He has chaired regional and national conference symposia in chemistry and nanotechnology.  He was admitted as a Fellow of the Royal Society of Chemistry in 2016.
Dr Litz's Specialties:
Dr. Litz's industrial research has covered such topics as Energy-efficient Materials, Atom-efficient Catalysis, High Energy and CVD materials, and Electro-Optical Material for efficient lighting.
Dr. Litz's company was recognized as one of the 50 most promising green-tech companies in New York.
Publications
Synthesis and Reactivity of a Novel Palladium Germylene System.

Organometallics

2002

21

5373-5381.

Photochemistry of Organometallic Germylenes and Metallacycles.

Organometallics

2000

19

1186-1189.

Nucleation of chemical vapor deposited silicon nitride on silicon dioxide.

Appl. Phys. Lett.

1999

74

1830-1832.

X-ray Crystallographic and Theoretical Comparison of Ge[2,4,6-(CF 3)3C6H2]22 and Ge[N(SiMe 3)2]2 as Ligands in (Ph3P)2 NiGeX 2Complexes.

Organometallics

1999

18

1547-1552.

The Active Role of a Germylene Ligand in Promoting Reactions of Pt Complexes with Oxygen and Sulfur Dioxide.

Inorg. Chem.

1998

37

6461

Activation of Arylnitroso Substrates on a Platinum Germylene Complex Facilitating the Formation of New N-C and N-S bonds.

J. Am. Chem. Soc.

1998

120

7484

The Role of Second-Neighbor Effects in Photoemission: Are Silicon Surfaces and Interfaces Special?

Appl. Phys. Lett.

1998

72

46

Intermediates in the Catalytic Dehydrogenative Coupling of Aryl Germanes.

Chem. Eur. J.

1997

3

1793

Transition Metal Germylene Complexes as Hydrogenation Catalysts: the Synthesis of a Rare Bisamidegermane.

Angew. Chem. Int. Ed.

1997

36

496..

Synthesis, Structure, and Reactivity of a Platinum Germylene Complex.

Organometallics

1995

14

5008