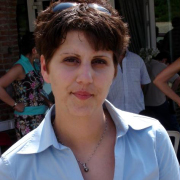 Education
Bachelor of Science
Whitman College, 2003
PhD
2008
About this team member
Pascale graduated from Whitman College in 2003 and obtained her PhD in 2008. Her research focused on the interactions of polymeric nanoparticles with biological membranes. She is a staff scientist with the Michigan Nanotechnology Institute for Medicine and Biological Sciences.
Pascale's paper in Bioconjugate Chemistry 2006, 17,728-734 was selected as one of the top 25 "best Articles and Communications from the first 25 years of BC, highlighting the breadth of science and impact of the journal."
Publications
Characterization of Folic Acid and Poly(amidoamine) Dendrimer Interactions with Folate Binding Protein: A Force-Pulling Study

Journal of Physical Chemistry B

2015

119

11506-11512

Stoichiometry and Structure of Poly(amidoamine) Dendrimer-Lipid Complexes

ACS Nano

2009

3

1886-1896.

Wide Varieties of Cationic Nanoparticles Induce Defects in  Supported Lipid Bilayers

Nanoletters

2008

8

420-424

Poly(amidoamine) dendrimers on lipid bilayers I: Free energy and conformation of binding

Journal of Physical Chemistry B

2008

112

9339-9345

Poly(amidoamine) dendrimers on lipid bilayers II: Effects of bilayer phase and dendrimer termination

Journal of Physical Chemistry B

2008

112

9346-9353

Interaction of Poly(amidoamine) Dendrimers with Survanta Lung Surfactant:  The Importance of Lipid Domains

Langmuir

2008

24

11003-11008

Nanoparticle Interaction with Biological Membranes:  Does Nanotechnology Present a Janus Face?

Accounts of Chemical Research

2007

40

335-342

Nanoparticle-Membrane Interaction: Mechanism for Enhanced Permeability

2007

Interaction of Polycationic Polymers with Supported Lipid Bilayers and Cells: Nanoscale Hole Formation and Enhanced Membrane Permeability.

Bioconjugate Chemistry

2006

17

728-734.

Physical Interactions of Nanoparticles with Biological Membranes:The Observation of Nanoscale Hole Formation.

Chemical Health and Safety

2006

13

16-20.