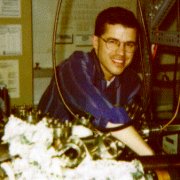 Education
PhD
Notre Dame, 1995
About this team member
Neil graduated from Notre Dame with his PhD in physical chemistry in the fall of 1995. His dissertation (w/ Dennis Jacobs) focused on studies of energy and electron transfer in ion/surface scattering experiments. He obtained his BS in chemistry from Santa Clara College in 1989.
Neil was in charging of designing and building a new set of chambers for surface IR and LEED. He is shown below in front of the completed system. It is directly attached via a gate valve to our reactors and X-ray photoemission spectrometer.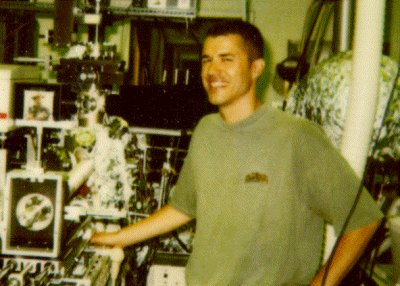 Neil completed a beautiful series of IR experiments of H8Si8O12 clusters on Si before moving on to Boise, Idaho.  He now works for Micron.
Publications
Investigation of Hydridosilsesquioxane-Based Silicon Oxide Deposition on Si(111)-7´7.

Langmuir

2002

18

6233-6241.

The Reaction of H8Si8O12 with a Chromium Oxide Surface: a model for stainless steel surface modification.

Appl. Organomet. Chem.

1999

13

279-285.

Infrared Study of H10Si10O15 Chemisorbed on Si(100)-2×1.

Inorg. Chem.

1998

37

6014-6017.

Surface Infrared Studies of Silicon/Silicon Oxide Interfaces Derived from Hydridosilsesquioxane Clusters.

J. Am. Chem. Soc.

1998

120

7776

The Role of Extra-Atomic Relaxation in Determining Si 2p Binding Energy Shifts at Silicon/Silicon Oxide Interfaces.

J. Appl. Phys.

1997

82

2298