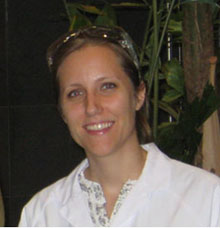 Education
Bachelor of Science
University of Wisconsin, 2001
Doctor of Philosophy
University of Michigan, 2006
About this team member
After graduation Bonnie Ludwig first worked at Dow Corning Corporation in Midland, MI.    She is currently product development manager at Ellsworth Adhesive.
Publications
Octylgermane on Gold: Synthesis, Oxidation, and Pattern Formation.

Langmuir

2004

20

11422-11427.

Oxidation of Alkylsilane-based Monolayers on Gold.

Langmuir

2004

20

9636-9645.

Germylene Reactions with Quinones Shed Light on Germylene Phenone Equilibria.

Organometallics

2003

22

3222-3229.

Investigation of Hydridosilsesquioxane-Based Silicon Oxide Deposition on Si(111)-7´7.

Langmuir

2002

18

6233-6241.