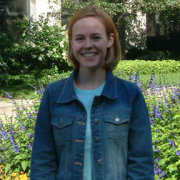 Education
Bachelor of Science
Grand Valley State University, 2001
Doctor of Philosphy
University of Michigan, 2006
About this team member
Jessica was an undergraduate at Grand Valley State University and graduated with her PhD in Chemistry from Michigan in 2006. She recently published the first AFM images ever acquired of a cell undergoing programmed cell death (Langmuir 2005, 21, 9280-9286).  After graduation, she worked at the Van Andel Institute in the lab of Craig Webb.  She is now working in the field of intellectual property at McGarry Bair PC.
Publications
Cationic Nanoparticles Induce Nanoscale Disruption in Living Cell Plasma Membranes

Journal of Physical Chemistry B

2009

113

11179-11185

Design and Implementation of a Studio-based General Chemistry Course at the University of Michigan.

J. Chem. Ed.

2007

84

265-270.

Physical Interactions of Nanoparticles with Biological Membranes:The Observation of Nanoscale Hole Formation.

Chemical Health and Safety

2006

13

16-20.

Atomic Force Microscopy Study of Early Morphological Changes During Apoptosis.

Langmuir

2005

21

9280-9286.

A Novel MEA/AFM Platform for the Measurement of Real-time, Nanometric Morphological Alterations of Electrically Stimulated Neuralblastoma Cells.

IEEE Transactions on Nanobioscience

2004

3

111-117.

Tapping Mode Atomic Force Microscopy Investigation of Poly(amidoamine) Core-Shell Tecto(Dendrimers) using Carbon-Nanoprobes.

Langmuir

2002

18

3127-3133.